THE GROUNDBREAKING COURSE THAT TEACHES YOU TO SETUP YOUR HYDROPONIC FARM THAT GENERATE UPTO
₹4 LAKHS/MONTH.
Click to Play Button to find out more !
Hydroponic Masterclass is packed with features designed to take things to the

NEXT LEVEL!
Learn All Nitty Gritty of hydroponic business. This course is designed with backing of own experience, covering all small and big issues keeping in mind to help you build a commercially successful hydroponic farm with less equipment and in less time.
IOT Based Farm Management You don't just get learnings, you get complete farm management software to manage your farm. Our farm management software is capable to manage from 10 plants to 100's of acres of project seamlessly.
Future Market Price Prediction With 45 days future price prediction you can take decision of what you should grow for maximum ROI. With 87.88% accuracy It's world's first and only AI based price prediction model.
Buyers Connect on Touch We don't just help you understand basics of hydroponics we help you connect the right buyer for your crops too. With buyers connect you can connect to 1000's of buyers to sell your crops.
Lifetime Support Once you enrolled for the course you get lifetime support and access to knowledgebase. You can ask us anything, we are just one call away.
Free Farm visit It's not all theory, after completing the course you can visit our operational farm to get hands on experience. We are ISO 9001:2015 Certified farm.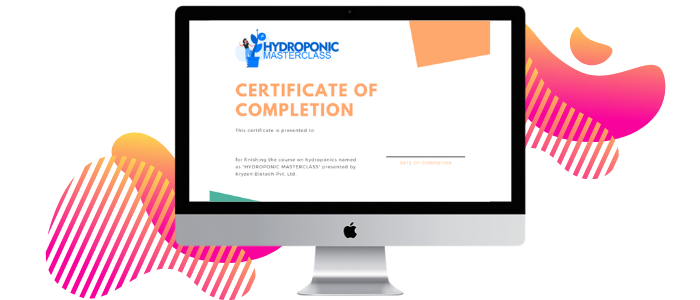 GET CERTIFIED
Get Certificate of Completion
Certificate of course completion is required for a bank or NBFC loan, subsidy, or any government-related filing. The additional option of e-verification of the certificate makes sure your certificate can be verified by any official without any delay in any procedure.
FREQUENTLY ASKED QUESTIONS
Who should take this Course?
This is absolute all level course, if you are beginner who doesn't know about agriculture or hydroponic professional who wants to brush up knowledge of hydroponics this course is for you.
How many participants are in a course? Can I interact with them?
Currently you cannot interact with other participants who are taking course, however you can connect to them in our private facebook group on completing the course successfully.
I am a high school student, can I join?
This course is revolves around techniques and science of hydroponics, you can take up this course to understand about hydroponics.
Do I need specific equipment to take Online Courses? Can I interact with them?
You should have an up-to-date web browser such as: Chrome, Safari, Firefox, or Internet Explorer. For more detailed information, Our Online Courses can be accessed on a mobile or tablet device, although we strongly encourage you to have access to a desktop or laptop computer and reliable internet connection. Now you can access our course via any android TV or chrome cast, Amazon fire-stick as well. Check your welcome email for configuration details.
18 REASONS TO ENROL FOR HYDROPONIC MASTERCLASS TODAY! WHY 25,500+ LEARNERS CHOOSE HYDROPONIC-MASTERCLASSTM OVER OTHERS.
Key Features
Masterclass
Zoom Call
Webinar
01. Advance Hydroponic Course
02. Detailed Project Report
03. All Device Access
04. Money Back Gurantee
05. Life-time Support
06. E-verified Certificate
07. On-demand Course
08. Liftime Access
09. Free Farm Visit
10. Free Farm Management Software
11. Free Pricewatcher Software
12. Own Farm Developemnt
13. Community Support
14. Free Updates
15. Farm Setup Guide
16. Unlimited Revisions
17. Group/Team Learning
18. Responsive Learning
ENROL NOW

BACKED BY 100% RISK FREE REFUND GURANTEE
Try this course for 7 days. If you find it's not adding any value to your knowledge, get your money back. We are so much sure about the value this course is going to add; We are openly offering a 100% refund if it doesn't. Simply email us at

NO HASSLE, NO QUESTION ASKED.
Now that you have NO RISK ,
You also have NO EXCUSES.
ENROL FOR THE COURSE, PRICE-WATCHER, & PRIVATE FACEBOOK GROUP NOW
BUILD YOUR OWN HYDROPONIC BUSINESS THAT WORKS LIKE A MONEY-MAKING MACHINE. TRUSTED BY 40,135+ MEMBERS!